Why am I running? Watch my video


Bob Gives Commencement Address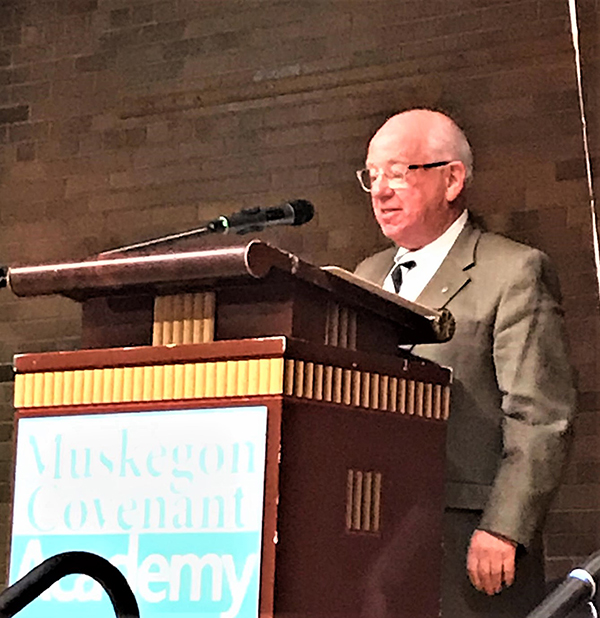 Bob giving the Commencement Address at the December
graduation at Muskegon Covenant Academy
Bob was given the honor of presenting the Commencement Address at Muskegon Covenant Academy for their December graduation. CLICK HERE to read his remarks.

Serving Norton Shores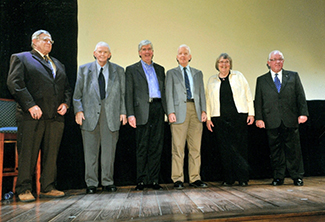 Bob on stage in Detroit with Governor Snider and the five
Finalists for the Governor's Service Award as "Michigan
Senior Volunteer of the Year"
I have had the privilege of serving the citizens of Norton Shores as a City Councilman from 1991 to 2001 and then as your County Commissioner from 2002 through today. As your County Commissioner, I'm very concerned about the future of Muskegon County. I've put a lot of time and effort over the last twenty years to try and help make this community a better place to live. The future growth of our local economy, while maintaining our quality of life, is my most important platform as your County Commissioner. A new initiative I'm working on involves the creation of new jobs and businesses in our area by promoting entrepreneurism. I've created a new title for myself: Entrepromoter. As someone who has started businesses all his life and successfully created about 100 jobs, I think I can talk to people with ideas and dreams and encourage them to act on their ideas. Muskegon has a long and proud history of startups and we need to ignite the potential entrepreneurs in our community. I need to be reelected to have a public platform to work on this new initiative.
To illustrate my involvement in our community, here is a list of some of my accomplishments within Muskegon County:
B.A, Economics, Hobart College, Geneva, NY
Captain, US Army. Service in Vietnam & Korea 1967-1970
Former President & Owner: Muskegon Brake & Distributing
Recipient of Muskegon County's "Entrepreneur of the Year" Award
Served as a Norton Shores City Councilman for over 10 years: 1991-2001
Muskegon County Commissioner, 2002–present
Chairman, County's Economic Development & Strategic Planning Committee
2011 Governor's Service Award finalist for Michigan Senior Volunteer of the Year, one of five finalists statewide
Named "Muskegon Agent of Change" by the Muskegon Chamber of Commerce
Board member, Michigan Association of Counties
Recipient of the 2008 Liberty Bell Award from the Muskegon Bar Association
Fundraiser, Chairman and organizer of the Veteran's Park Cannon Restorations
Fundraiser, organizer and presenter of the 2012 Muskegon 4th of July Fireworks display
Legacy of Caring Award 2011: United Way's highest honor for people making a difference
Former Chairman of United Way and Campaign Chair
Former Chairman, Muskegon Lakeshore Area Chamber of Commerce
Former President of the Muskegon Rotary Club
Former President and Chairman of Hackley Visiting Nurses and Hospice Former
Former President of the Michigan Pine & Dunes Girl Scout Council
I am running for reelection as your County Commissioner in November. I believe I have brought the same ideas and principles that helped build Norton Shores and helped me build a dozen successful businesses … to the Muskegon County Commission. I've brought common sense and sound fiscal responsibility to the County, helping reduce our budget by over $22,000,000. I've helped make some terrific strides forward and I pledge to continue to work hard for you – the Citizens of Norton Shores and Muskegon County – as your County Commissioner. I will continue to work to move this county forward, to improve the lives of all its citizens and protect our natural resources.
I ask for your vote in November!

Bob Scolnik
Entrepreneurs …
Own your own business!
Have you ever thought of owning your own business? Do you have a great idea for a new business? There are always opportunities for entrepreneurs with vision, drive and the will to succeed. Begin the exciting journey today! Click below to learn more.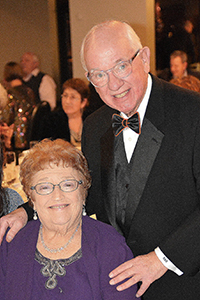 My wife of 50+ years, Merle, and I celebrate
another year on New Year's Eve!
See my facebook page
---

Read the article about Bob's mother
---
News Release:
The Muskegon Area Transit System (MATS) and the Muskegon County Board of Commissioners will launch Go2
---
Bob and Merle's Passion
Read their story!
---
Beautiful Veterans Day Celebration today (Sunday, November 11, 2018) at Veteran's Memorial Park in Muskegon. A large crowd, an Honor Guard, the Reeths Puffer Middle School Band, a "Laying of the Wreath" ceremony by the Daughters of the American Revolution and the Colonial Dames of America and a bonus: It was cold, but not windy, raining or snowing! Veterans Day is to honor all Veterans of our Armed Forces although it was originally created in 1918 as Armistice Day, to mark the end of World War 1, the "War to end all Wars". The name changed to Veterans Day in 1954 after World War 2 and the Korean War.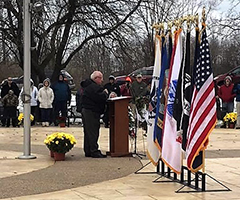 I was honored to be the Keynote Speaker. Besides being a County Commissioner, I am a Veteran of the United States Army with four years of active duty, including service in Korea and Vietnam. I enlisted as a Private and when I left the service, I was a Captain. I've done a lot in my life and had some success, but I am proudest of my military service. I will post the text of my speech on my website HERE, but there is also a video of the entire ceremony thanks to Holly Hughes. The entire event was short, only about 30 minutes, and it was wonderful. Take a look HERE. If you're interested, I'm speaking from 2:50 to about 9:00 in the video.
In the top photo, I am standing with the Chaplain Bob Hall and Norton Shores Mayor Gary Nelund, who always attends.